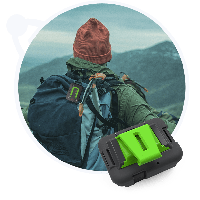 Our greatest strength is our members. Besides being the boots-on-the-ground, their numbers are important to showing governments and land stakeholders the positive impact off-roaders have in the community.
The Corporate Sustaining Member (CSM) program, rather than being a traditional advertising or sponsorship model, allows businesses to show their support for our work toward Public Access to Public Land, the same as Individual and Club members.
We're excited to announce Roadpost Inc. as a new CSM!
Roadpost is a Master Distributor of ZOLEO satellite messengers, and they're offering the following deals for 4WDABC paid members:
Purchase a ZOLEO communicator online or in store, and
ZOLEO allows you to send and receive text and email messages via satellite from your supported smartphone. When you're in cell or WiFi range, it will use that connection for messages so as not to count against your message plan.
The SOS button on the device and in the app will notify GEOS Response to dispatch emergency services to your location, as well as notifying up to two contacts that you designate.
The Check In button will send an "I'm okay" message, and optionally your current coordinates, to up to two contacts you designate.
You can also sync your phone contacts for seamless messaging to anyone in your list.
ZOLEO is the perfect safety companion for off-roaders, and Roadpost is a natural fit into the 4WDABC CSM family. We're proud to have their support!
If your company would like to support our work as a Corporate Sustaining Member, please click here, or email csm@4wdabc.ca if you have any questions.
---
ZOLEO cradle kit includes cradle, belt clip, strap infill, and camera mount.
---
For a list of ZOLEO dealers and online stores: https://www.zoleo.com/en-ca/where-to-buy/
To apply for the free activation discount*: https://roadpost.box.com/s/ctj5kw62618y1ayj3msy33gdhyidwr6u
To request the free cradle kit*: https://roadpost.box.com/s/h7v4qfmx91tc4qbogw3o9dh0tptlp7zh
* only one discount per member, so choose wisely!
To obtain the discount, members must attach a copy of their virtual membership card. Instructions on accessing and sharing it are at https://www.4wdabc.ca/articles/using-your-virtual-membership-card
---