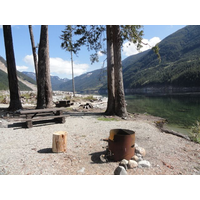 (As posted to Facebook):
As some of you may know, last year the government made a decision, after over 25 years of service, to lock the gate and officially close down the Skwellipil Creek Rec Site on the west side of Chehalis Lake, to ALL vehicle traffic. Although this may have seemed like a great idea to some, the majority of the community were pretty disappointed. Most of the local community have been enjoying this site and area for over 20 years. They have camped there as young kids and now continue this tradition with their kids, like me. For those involved in these kinds of situations, we know that it is not easy and can be a long drawn out process to fight for places like these. The Four Wheel Drive Association of BC has played a major role in taking over management of such sites.
Well, last year I took it upon myself to make this my mission to get this site open to the public once again. So I started a petition, hoping to get 500 signatures. That petition exceeded 500 and rose to almost 900! So the response was a true reflection on how much this site meant to the community. I presented this petition with a letter to the Rec officer, MLA and 4WDABC. I was greeted with positivity and open minds. Over the past year or so, with much correspondence with the Rec officer and the MLA, I was able to keep this conversation active and moving forward with progress.
With that being said….I would like to thank ALL of those who took the time to sign the petition and write comments on why you wanted to keep this site open.
Through our hard work and dedication, an agreement between the Recreation Sites and Trails BC and the 4WDABC was signed just recently allowing the management of this site to be given to 4WDABC! The gate will remain open indefinitely.
I am so proud to be part of this cause and to be part of a community that fights for causes like this.
More information on how you can help improve and maintain this site, for years to come, will be coming soon. We will need to add a couple of outhouses and numerous clean-ups throughout the year.
- Todd Freeman
| | |
| --- | --- |
| | |
| | |
---