Thank you for considering joining the 4WDABC!
For businesses who support our work and community, a
Corporate Sustaining Membership is only $250/year.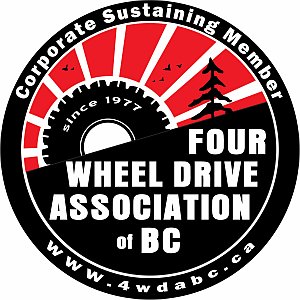 The Corporate Sustaining Member (CSM) program, rather than being a traditional advertising or sponsorship model, allows businesses to show their support for our work toward Public Access to Public Land, the same as Individual and Club members. These are companies who believe in our goals and support our work in a number of ways: financially; by providing discounts for members, products for draws and giveaways, to encourage individual membership; and/or donating equipment, services, or facilities for cleanups, builds, maintenance, and similar projects. 
As a CSM, you'll receive one copy of the standard membership package, a special 6" or 8" Corporate Sustaining Member decal (your choice), an invitation to display at events such as our annual Show & Shine, increased exposure on our social media channels, the right to make weekly posts in our Buy/Sell/Trade group and monthly specials/sales posts in our main discussion group, and other perks depending on the level of support you choose to provide, including:
Your logo and link to your website in a 1/8 page ad in the Backroader Magazine.
If you donate $500 or more in a year, a 1/4 page ad in the Backroader Magazine (you provide your own ad copy)
If you donate $1000 or more in a year, a 1/2 page ad in the Backroader Magazine (you provide your own ad copy) and your next year's membership fee will be waived.
Sign Up as a Corporate Sustaining Member
All Corporate Sustaining Memberships renew on January 31;
those signing up other times of the year will have the membership fee prorated.
For more information on our Corporate Sustaining Membership program, please email csm@4wdabc.ca
*Some features are planned for the near future, depending on further development of the web back-end, and figuring out the logistics.
Your membership provides you with benefits and helps us make things happen
Your membership provides you with the annual(ish) magazine, exclusive member discount programs with various retailers, and the yearly membership Decal.
More importantly, your membership helps provide us the means to make the things we do happen, including:
Building and upkeep of the Hale Creek shelter
Rebuilding/repair and maintenance of the Nahatlatch, Cornwall, and Mount Lavina fire towers
Maintaining 18 Rec Sites in BC so that avid off roaders can use them free of charge
Holding regular cleanups at various locations around BC
Hosting 18+ maintenance runs a year
Development of the Stave Lake Training Area in Mission, and Lac du Bois ORV Park in Kamloops
Hosting runs to take out Burn Survivors and Big Brothers & Sisters for the day
Eagle Ridge and Norrish Creek Key Access Programs
And most of all, help ensure Public Access to Public Land