Due to safety concerns about high volume traffic on the long weekend, I am moving this to the 29th after all. My goal for the softroading runs is for everyone to have an opportunity to take their time, enjoy the ride, and not feel pressured by bigger rigs. This is a new event so please bear with us as we iron out the kinks, I'm just trying to make this as much fun as possible.
Meeting at the entrance to Sasquatch Park, East of the day use area, at the split between East Harrison FSR and the road to Hick's Lake - 49.35091155837129, -121.74478105166524 (see images). We quickly ran out of room last time so this is just up the road a minute from the previous run.
For my AWDs, SUVs, Subies, Ravs, Kias, Explorers, and such, or anyone else up for a scenic toddle through the trees, we're going for a day tour up to the beautiful Shovel Creek falls along the East side of Harrison Lake.
This is an obstacle free run featuring many waterfalls and scenic views.
The road is bumpy but in fantastic shape, airing down is optional but recommended for comfort, and if you don't have a compressor to air back up there are two available in Harrison (one interac and one cash).
If you've been wanting to get out or get started but you want to take it easy, this is the run for you. All rigs welcome, no clearance or other requirements.
Recommended equipment:
Full size spare and tools to change it
All Terrain tires are recommended
Gloves
Change of clothes
Emergency food / water
Toiletries and garbage bag
Lunch
*As always, 4WDABC hosted runs strive for safety, but are not liable for any damage or injuries.*
We will meet at 10am for air down and a safety briefing, departure for 10:30am. The length of the run will depend on how fast we're comfortable travelling, but I'd estimate about 6-7 hours round trip, 60kms each way.
This is a low and slow, scenic cruise with lots of photo opportunities and neat stops along the way. Outhouses are available only at the 20km mark at Cogburn beach, otherwise expect to rough it. Dogs and kids welcome, no membership required.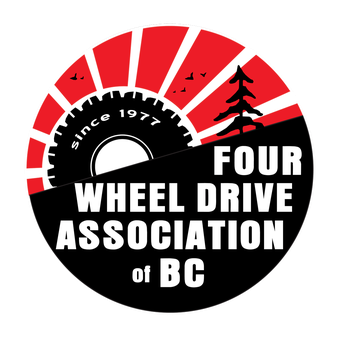 49.35091155837129, -121.74478105166524